Our design courses were created with the beginner in mind. We do not overwhelm you with 'just in case' information but rather teach you the tools and techniques you need at the moment you need them. Every design we model has a practical use and is designed with the intent that it will be 3D printed. Therefore, you not only learn to design with Fusion 360 but also learn to design for 3D printing. By the end of the first course you will have the skills and confidence to begin creating your own designs and start turning your ideas into physical objects. Once enrolled in any of the courses, you get lifetime access to the content so that you can view as many times as needed. All of our courses come with a 30 day money back guarantee so feel free to try at no risk.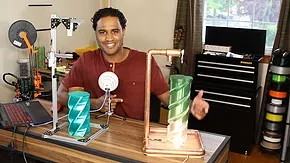 ABOUT INSTRUCTOR, VLADIMIR MARIANO
Vladimir Mariano is the instructor of the bestselling online course, Designing for 3D Printing with Fusion 360. He is co-founder and president of the Fairfield County Makers' Guild, an independent makerspace in Norwalk, CT and founder of Desktop Makes. He teaches design and 3D printing at the Norwalk Community College and is also the Makerspace Supervisor at the college.